Studio Revolt Helps Tour Cambodian Film "LOST LOVES" to 9 US Cities
FOR IMMEDIATE RELEASE
Contact: Anida Yoeu Ali
anida[at]studio-revolt[dot]com
www[dot]studio-revolt[dot]com
tel: +855-89-751-896 (Phnom Penh, Cambodia)
or tel +011-312-933-4426 (Chicago, IL USA)
Sept 12, 2012
CAMBODIAN FILM "LOST LOVES" EMBARKS ON 9-CITY SCREENING TOUR ACROSS AMERICA
PHNOM PENH, CAMBODIA –
Cambodian filmmaker Mr. Chhay Bora and his wife, co-writer and actress, Ms. Kauv Sotheary used their 15 years life savings to produce, "Lost Loves (2012)," the first historical film based on the memory of his mother-in-law during the Cambodian genocide.
With no institutional support and no money left for PR/marketing, the film proved to be a box office hit in Cambodia. Released on January 6 "Lost Loves" screened consecutively for 42 days. By popular demand, yielding an intergenerational audience appeal, the film continued to play on a weekend basis until April 2012. In August, the Cambodia Oscar Selection Committee (COSC) voted unanimously to submit the film as the country's nomination to the Foreign Film category, marking the first time in 18 years that the country has sent a film to the Oscars.
From Sept 12 – Oct 4, 2012, Mr. Chhay embarks on a 9-city screening tour in the USA to bring the film to Cambodian American and refugee communities across the country.
When asked about the relevance of touring the film to a US audience, Mr. Chhay remarked, "I have to tour this in America. After 33 years, the tragic memories of Cambodian refugees who left still linger in their lives, and they need to share this with their children who were born and grew up outside of Cambodia. 'Lost Loves' captures the memories and experiences of these children's parents and grandparents. I believe my film can help to bring back understanding and love between generations."
"LOST LOVES" begins the tour with a Chicago screening on Wednesday September 12, 2012 at the Sulzer Library. On this tour, Mr. Chhay focuses the film's outreach efforts toward educational institutions and Cambodian diaspora communities.
"LOST LOVES" USA SCREENING SCHEDULE:

Movie is 110 minutes, in Khmer with English subtitles, rated PG-13
All screening will have a post-film Q&A with director Chhay Bora
*
WEDNESDAY SEPT 12, 2012
Chicago
Time: 5:30PM – 8:00PM
Location: Sulzer Regional Library
4455 N Lincoln Ave
Chicago, IL 60625
(FREE)
http://on.fb.me/QQ9nuo
Presented by Chicago Public Library
*
THURSDAY SEPT 14, 2012
Northern Illinois University
Time: 8-10PM
Location: Holmes Student Center (NIU)
Cole Hall Auditorium
Dekalb, IL  60115
(FREE)
http://www.niu.edu/cseas/conferences/cambodiaconf2012/index.shtml
Presented by Center for Southeast Asian Studies as part of the "Imagining Cambodia" Cambodian Studies Conference
*
MONDAY SEPT 17, 2012
Ohio University
Time: 7PM
Location: Ohio University
Glidden Hall Room 400 (Music Recital Hall)
Athens, OH  45701
(FREE)
http://www.seas.ohio.edu
Presented by Southeast Asian Studies/Center for International Studies
*
THURSDAY SEPT 20, 2012
University of Connecticut
Time: 4:00PM
Location: University of Connecticut
Laurel Hall (CB 101)
Stors, CT  06269
(FREE)
http://asianamerican.uconn.edu/mp-full.php?news_id=68
Presented by The Asian American Studies Institute
*
SATURDAY SEPT 22, 2012
Philadelphia
Time: 12Noon
Location: Furness High School
1900 S. 3rd Street (3rd & Mifflin Street)
Philadelphia, PA 19148
(FREE)
http://on.fb.me/QjeVyJ
Presented by Cambodian Association of Greater Philadelphia (CAGP)
*
TUESDAY SEPT 25, 2012
Minneapolis/St. Paul
Time: 7pm
Location: Macalester College (St. Paul)
John B. Davis Lecture Hall
1600 Grand Avenue
St. Paul, MN 55105
($5 Suggested Donation)
http://on.fb.me/SE2nHY
Co-sponsors: Khmer's Next Generation, Macalester College, Catalyst Graphics, and Rehm Designs & Renovation
*
FRIDAY SEPT 28, 2012
Seattle
Time: 7pm
Location: Youngstown Cultural Arts Center
Thelmy Dewitty Theater
4408 Delridge Way SW
Seattle, WA  98106
(Tickets: $7 advance /$10 door)
http://on.fb.me/OGm3VE
Co-sponsors: Southeast Asia Center at UW, Youngstown Cultural Arts Center & Delridge Neighborhoods Community Association, Antares Light Specialized Consultancy, and Seattle-Sihanoukville Sister City Association. Event coverage by Khmerican.
•
MONDAY OCT 1, 2012
Long Beach
Time: 7-10pm
Art Theater
2025 E. 4th Street
Long Beach, CA  90814
(Tickets: $10 advance /$15 door *Limited Seating / Red Carpet Event)
http://mujestic.com/
Presented by Orphanage Productions, hosted by praCh Ly
*
WEDNESDAY OCT 3, 2012
UC-Berkeley
Time: 7:30pm
Location: University of California (Berkeley)
110 Barrows Hall
Berkeley, CA  94720
FREE
http://bit.ly/No46xF
Co-sponsored by Asian American & Asian Diaspora Studies, Dept. of South & Southeast Asian Studies, Center for Southeast Asia Studies

PRESS ON THE FILM    |  ScreenDaily.com  |  LA Times    |   The Guardian 
"…generating a level of discussion about the Khmer Rouge that is rare in Cambodia" — Los Angeles Times
"The most talked about film" — Hollywood Reporter
"a notable contribution to Cambodian film"  — Phnom Penh Post / 7 Days Feature
"Lost Loves is the best-looking Cambodian film in years" — Meta House
"an impressive accomplishment, a well-made Cambodian film on a subject matter that seems to slip from public consciousness all to easily in Cambodia"— Dr. Tilman Baumgärtel, Southeast Asian Film Studies Institute
ABOUT THE FILM
LOST LOVES is the heart wrenching true story of Leav Sila, just one of many countless mothers that did all they could to keep their family alive, only to see the vast majority be killed or starve to death in the fateful years of the Khmer Rouge regime. Written and starring Kauv Sotheary, one of only two surviving children of Leav Sila, it gives a brutal yet captivating insight into the extremity of this painful chapter in history. LOST LOVES is directed by Chhay Bora, Kauv Sottheary's husband. Both being university lecturers, they have spent their life savings on this project, not for personal gain, but because Leav Sila's story, like many thousands of that period, needed to be told. The new generation of Cambodians must learn their history so as to never repeat it.
"My movie, I am not doing it for the [Khmer Rouge tribunal]. I am not doing it for politics. I am doing it for my people, for Cambodian victims, who suffered, who died… to let the people judge what is wrong, what is right. This is a true story." – Chhay Bora (Director)
ABOUT DIRECTOR CHHAY BORA
Professor Chhay Bora is an active member of the local Cambodian arts and movie scene.
1986 Professor Chhay Bora graduated performing art as play actor/director and writer at Fine Art University. 1993, He graduated Mater Degree of Economic Science in Bulgaria and 2005 He finished his doctor degree. 2003, He produced a Cambodian Modern play (Historical story called Khmer Hero, with 120 actors/actresses. This play was the largest play in Cambodian Play History.
Professor Chhay Bora, spent his 10 years in teaching business management in public and private universities in Phnom Penh. With deeply love as an artist heart and the memory of Cambodian Genocide, in 2008 he and his wife (Writer/ Actress Prof. Kauv Sotheary) decided to use his 15 years saving account to produce a first historical film based in a memory of his mother-in low during the Cambodian Genocide.
###
For additional information please contact Anida Yoeu Ali at anida[at]studio-revolt[dot]com or by phone in Phnom Penh at +855-89-751-896 or in Chicago +011-312-933-4426. More info about can be found www.studio-revolt.com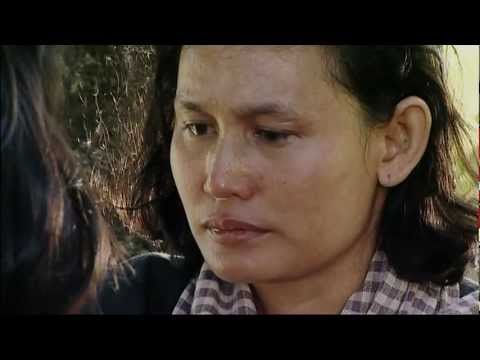 Official "Lost Loves" Trailer